Unique visitors: 740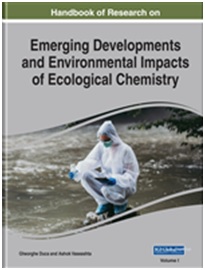 Recent (martie 2020), editura IGI Global, SUA  a scos de sub tipar monografia colectivă "Emerging Developments and Environmental Impacts of Ecological Chemistry" (Eds. Gheorghe Duca, Ashok Vaseashta). Lucrarea constituie o sursă esențială de referință în domeniul chimiei ecologice, care include atât aspecte teoretice relevante, cât și cele mai recente rezultate ale cercetărilor empirice despre natura contaminanților, nocivitatea lor  pentru securitatea mediului și cuantificarea riscurilor chimice pentru sănătate.
Cartea include 25 de capitole, având un  "Cuvânt înainte" semnat de acad. Isaac Bersuker. Autorii capitolelor sunt cercetători din SUA, Federația Rusă, India, România, Ucraina, Polonia, Georgia; opt capitole sunt scrise de cercetători din Republica Moldova, inclusiv trei membri ai Academiei de Științe a Moldovei: acad. G.Duca, acad. T.Lupașcu, acad. A.Sidorenko. Monografia este destinată cercetătorilor și studenților, dar și unui public mai larg, care, după cum menționează autorii, "pot găsi detalii interesante printre formule și ecuații".
www.igi-global.com/book/handbook-research-emerging-developments-environmental/231905